THE GAME
GENRE: SIMULATION + MANAGEMENT

Very realistic vehicle physics

Choose your missions according to your style: Speed, Comfort, Ecology or Safety

In all cases, you will have to be quite CAREFUL to succeed.

Prepare yourself for an experience rich in tension and concentration: drive on winding roads in traffic without causing an accident.

Optional ultimate reality mode: possibility to permanently lose a client in case of a crash.

A true progressive career mode.

Manage your vehicle/upgrade/overhaul/insurance/fuel budget well: the game takes place in a future dominated by autonomous AIs, and fuel costs $50 a liter...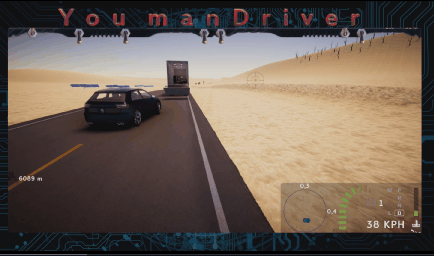 ALSO WITH
SPECIAL MISSIONS
FREQUENTLY ASKED QUESTIONS
ON WHAT DEVICE CAN IT BE PLAYED ?
Planned on PC only for the moment, unless an incredible demand emerges.
DO I NEED A POWERFULL PC ?
Not necessarilty, it runs smoothly on a small PC.
It's realistic, so you need a steering wheel ?
A steering wheel will be the best to take advantage of the quality of the behavior simulation. But I make sure that the driving aids make the game perfectly playable with the keyboard.
The final version will be paid for, at a reasonable price.